Ruislip and Northwood Squadron
[
edit
|
edit source
]
114 (Ruislip) Squadron, Air Training Corps, Ickenham Road, Ruislip, Middlesex, HA4 7DQ
http://www.114squadronatc.org.uk
01895 631461
114 (Ruislip and Northwood) Squadron is a unit within the Air Training Corps. It is situated within Middlesex Wing, London And South East Region.
Our squadron is more than your average ATC squadron. Whilst on a normal parade night, our cadets partake in activities such as Ceremonial Drill, Sports, Initial Expedition Training (IET), Radio Communications, The Duke Of Edingburgh's Award Scheme (DofE), Aircraft Recognition, First Aid, Photography and Aeromodeling as well as Flying and Gliding at weekends at local RAF airfields.

We take part in Wing, Region and Corps Drill and Band competitions and recently in the 2008 competitions, not only did 114 Squadron come 1st in the Wing and Region band competions but also went on to achieve first place for the percussion section.
In the words of Air Commodore Moulds, Commmandant Air Cadets: "Anything but average!"
No. 114 Squadron, RFC, was formed at Lahore, India, in September 1917, from a nucleus provided by No. 31 Squadron. It was equipped with BE2c's and BE2e's and appears to have taken part in air demonstrations against troublesome tribesmen during the period September 1917 to March 1918. By September 1918, headquarters and one-and-a-half flights were at Quetta, half a flight was at Lahore and one flight was in Aden. The squadron was redesignated No. 28 Squadron in April 1920.
In 1936 No. 114 re-formed at Wyton as a bomber squadron, with Hinds, and later was the first squadron to be equipped with Blenheim Is, at that time considered to be the fastest medium bombers in the world.
In December 1939, the squadron, with Blenheim IVs, was posted to Vraux, in France. At first it was engaged on reconnaissance, but with the invasion of the Low Countries was employed on bombing enemy troop columns. The squadron was evacuated from France in May 1940, to Wattisham, but soon afterwards moved to Horsham St. Faith and during the period July 1940 to February 1941 was employed on bombing the Channel Ports and other targets in enemy-occupied Europe and in Germany itself.
Early in March 1941, due to shipping losses in the Battle of the Atlantic, the squadron was loaned to No. 18 Group, Coastal Command, to provide convoy escorts and undertake antisubmarine and anti-shipping patrols. This was exacting and highly necessary work and was relieved by occasional strikes against specific targets such as the ports of Aalborg and Bergen. Towards the end of July the squadron returned to Bomber Command and very soon afterwards, on 11th August, took part in the famous daylight raid on the Cologne power stations. Four and a half months later, on 27th December, it participated in another notable operation: some of its Blenheims, operating from Northern Scotland, attacked the enemy airfield at Herdla in support of the British Combined Operations raid (the first of its kind) against the German-held Norwegian islands of Vaags and Maaloy.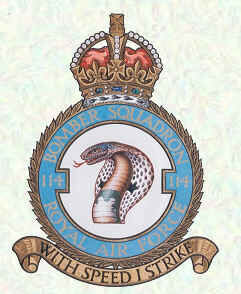 During the first seven months of 1942 the squadron was mainly engaged in night-intruder strikes against enemy airfields, and in May and June it made diversionary attacks on night-fighter airfields at Bonn, Vechta, Twente, Ardorf and Leeuwarden in connection with the 1,000-bomber raids on Cologne, Essen and Bremen.1
In November 1942, No. 114, re-equipped with Blenheim Vs, was posted to North Africa to give air support to the First Army in Operation Torch. In April 1943 the Squadron converted to Bostons and moved to Sicily , moving on to Italy in October. Here the Squadron attacked enemy communications and airfields until the end of the war, before moving to Aden in September 1945 and starting to convert to Mosquitoes. However, on 1 May 1946 the Squadron was reduced to a cadre which was renumbered No. 8 Squadron on 1 September 1946.
On 1 August 1947, No. 114 reformed at Kabrit as a transport unit. Initially equipped with Dakotas, these were replaced by Valettas in September 1949. During March 1956 it moved to Cyprus where it was disbanded on 31 December 1957. On 20 November 1958, No. 114 reformed at Hullavington with Chipmunks for security duties in Cyprus, moving there in December, but was disbanded again on 14 March 1959. On 13 April the Squadron reformed at Colerne as a transport unit with Hastings until it was disbanded on 30 September 1961. It was reformed the next day at Benson to be the first Argosy Squadron, receiving its first aircraft in February 1962, which were flown until the Squadron was disbanded on 31 October 1971.
1. On the occasion of the 1,000-bomber raid on Bremen (25/26th June) the squadron's effort was divided between Bremen itself and the airfields at Ardorf and Leeuwarden.
Officer Commanding 114 Squadron - Flight Lieutenant(ATC) Gwyn Griffiths
Squadron Warrant Officer - FS(ATC) G Bajwa
Adjutant - Civilian Instructor C Jones
Training Officer - CWO J James
Shooting Officer - Civilian Instructor C Jones
Projects Officer - Civilian Instructor M Reed
Community content is available under
CC-BY-SA
unless otherwise noted.