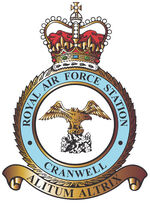 RAF College Cranwell is a Royal Air Force station in Lincolnshire close to the village of Cranwell, near Sleaford.
Origins
[
]
The history of military aviation at Cranwell goes back to 1 April 1916 when the Admiralty commissioned the site as the Royal Naval Air Service, Training Establishment, Cranwell. As the naval personnel were held on the books of HMS Daedalus, a hulk that was moored on the River Medway, this gave rise to a misconception that Cranwell was first established as HMS Daedalus.
With the establishment of the Royal Air Force as an independent service in 1918, the RNAS Training Establishment became RAF Cranwell.
Current functions
[
]
Cranwell is home to the Royal Air Force College (RAFC), which trains the RAFs new officers on a 32-week course. It is thus the RAF equivalent of Royal Military Academy Sandhurst or the Britannia Royal Naval College, and is considered by some to be the spiritual home of the RAF.
No.3 Flying Training School (FTS), training navigators and non-commissioned aircrew, is also based there. Cranwell is also home to two of the RAF bands namely the RAF College Band and the RAF Regiment Band.
It is home to the Officer and Aircrew Selection Centre (OASC). Where all applicants to the RAF as Officers or NCO aircrew, are put through a four-day rigorous selection process.
RAF College was also an engineering school offering HND and CNAA degrees courses. The students are mostly commissioned officers from the RAF as well as those from the Commonwealth countries. The class sizes were very small (25) and the students had very close attention from their lecturers and instructors. RAF College also offered Non-MOD courses especially customised for air force officers from the Commonwealth countries.
Since the mid-1990s, Cranwell has been home to Headquarters Air Cadets
The main building of RAF Cranwell is noted for its distinctive dome, visible from most of the surrounding roads.